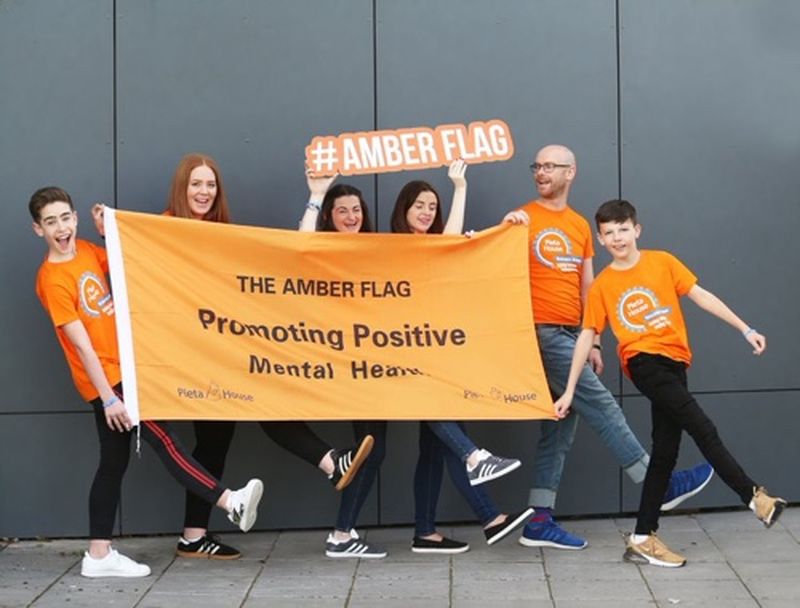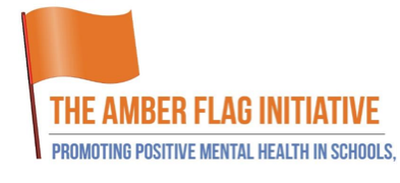 Amber Flag registrations are currently closed.
The Pieta Amber Flag Initiative recognises the individual efforts to create healthy, inclusive environments that support the mental well-being of the following organisations:
Primary and Secondary Schools

Further Education and Training Centres

Youthreach

Third-level Institutions

Organisations and Clubs
By joining Pieta's Amber Flag movement, you'll be part of a community across Ireland working together to break the stigma surrounding mental health.
Keep an eye on this page for sign-up notice. You can help create a brighter, healthier future by promoting positive mental health in your community.
Registrations for Amber Flag 23/24 are now closed
For anyone who applied for an Amber Flag before the 1st December 2023 deadline, a member of our team will be in touch in the coming weeks.
Amber Flag sign-up is currently closed.
For any Amber Flag-related queries, you can email amberflag@pieta.ie
Who Can Participate
Primary Schools
Primary schools can offer their students the opportunity to begin their well-being journey, where they can learn the basics of positive mental health.

As per the Well-being Policy &amp Statement Framework for Practice 2018-2023 (Department of Education &amp Skills, 2018), promoting the well-being of our children and young people is a shared community responsibility.

Schools can play a major role in enhancing protective factors and minimising risks.

Primary school subjects such as Aistear, SPHE, Arts Education and PE, as well as others, can be good places to start the children on their well-being journey and will help in gaining an Amber Flag.
Secondary Schools
Secondary schools offer students the opportunity to continue their well-being journey.

Research shows that adopting a whole school approach provides a wide range of educational and social benefits including: improved behaviour, increased inclusion, improved learning, greater social cohesion, increased social capital and improvements to mental health (Weare and Gray, 2003).

The Amber Flag is a great way to tie together a secondary school's well-being programme that often includes SPHE, PE and CSPE.
Further Education and Training Centres
Many students attend various organisations to further their skills, training, and education.

The Amber Flag is the perfect initiative to promote teamwork and gives students an opportunity to meet and work alongside others.

Students can learn life skills and be supported and educated in how to cope with challenges that they face.
Youthreach
Youthreach is an ideal setting for the Amber Flag as there is a strong emphasis on personal development and the individual needs of students.

The Youthreach curriculum focuses not just on the academic but equally on vocational and soft skills development.

Most Youthreach are doing subjects such as SPHE, Sports, Art, Design and Mixed Media, Drama etc., all of which can help to build self-confidence and self-esteem which leads to positive mental health.

Many Youthreach are already doing the foundation work for the Amber Flag so it would be great if their efforts were awarded at a national level.
Third Level
Third-level institutions in Ireland have a huge role to play in people's mental health.

Almost 75% of all serious mental health conditions first emerge between the ages of 15 and 25 (Kessler et al., 2005). Many full-time undergraduate entrants fall within that age group (HEA 2018); and for that reason, students are identified as a high-risk group for mental health difficulties.

Our hope is that all third-level institutions in Ireland get involved with the Amber Flag as they work towards implementing the National Student Mental Health and Suicide Prevention Framework (2020).
Clubs and Organisations
Clubs and Organisations are the perfect opportunity to promote positive mental health.

The ethos of many clubs and organisations are teamwork and participation.

Through these, clubs and organisations can illustrate what it's members can do to educate and reduce stigma around mental health.

By having an Amber Flag awarded to them, clubs and organisations are showing their communities the importance they place on promoting positive mental health.
How To Achieve Your Flag
Complete the Registration Form for Amber Flag Registration 2023 - 24. New applications are currently not accepted.

Create an Amber Flag Committee with a cross-section of students/service users/club members/staff.

Carry out an audit on what has already been done to promote positive mental health.

Set and complete a minimum of 3 mental health awareness goals. See some Sample Goals &amp Activities.

Submit the completed Amber Flag Application by the closing date, along with evidence of the goals achieved. See our Coordinators' Checklist.

Receive a physical flag and a digital certificate and badge.

Maintain Amber Flag initiatives.

Apply for Amber Flag Renewal.
Check out our 2023/2024 Information Booklet for more details.
About Amber Flag
Pieta's Amber Flag initiative celebrates communities that create healthy, supportive, and inclusive environments by promoting mental well-being. The initiative is open to primary and secondary schools, Youthreach, third-level, further education and training centres, clubs and other organisations.
By taking part in the Amber Flag, you're committing to creating a safer space for everyone to express themselves, seek help, and support each other.

By being part of your Amber Flag Committee and getting involved in setting and achieving mental health goals, you can empower other people to prioritise their mental health, to overcome challenges, and build resilience.

By joining Pieta's Amber Flag movement, you'll be part of a community across Ireland, working together to break the stigma surrounding mental health.
Whether you're a teacher looking to implement a whole school initiative, a community leader looking to make an impact or an organisation committed to supporting the mental health of your members, there's a place for you within our Amber Flag community.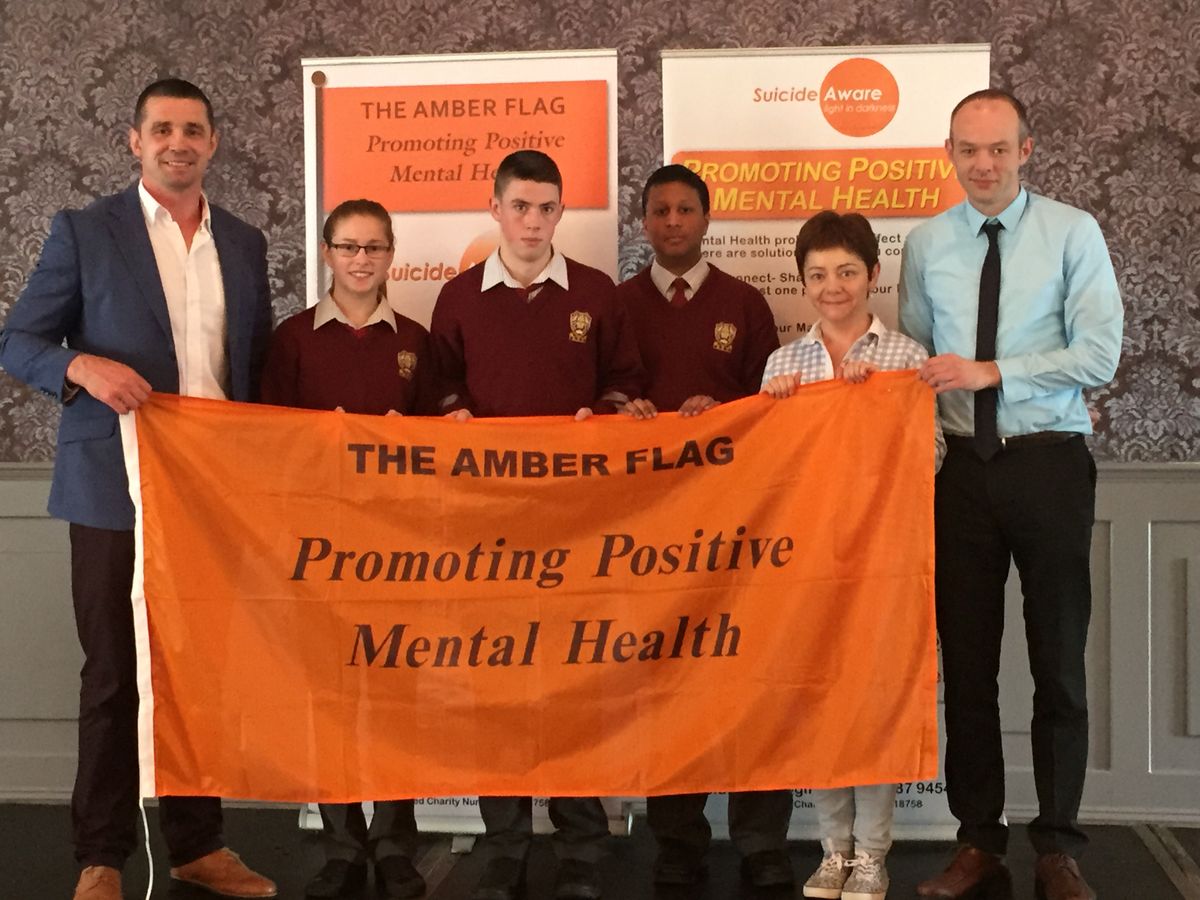 Amber Flag Vision
Promoting positive mental health and well-being in communities through shared participation, knowledge, and empowerment.
Amber Flag Objectives
Promoting Positive Mental Health

Enhancing inclusivity through teamwork and social support

Reducing risk factors through increased awareness and education

Improving quality of life for those with mental health challenges
Background
The Amber Flag initiative is in its 9th year. 516 Amber Flags were awarded in June 2023 to schools, clubs, and organisations all over Ireland. Once a flag is awarded, it is placed in a prominent position outside, flying at full mast, acknowledging the great achievement.
Feedback from previous Participants
Register for an Amber Flag
If you'd like to take part in the Amber Flag Initiative or find out more from our training team please get in touch.
Get in touch
To highlight in a public way that feeling down is ok, that you're not alone and that the flag flying on top of our school building represents the fact that we see you. We know you're hurting, and we will help. 
We wanted a physical symbol to fly at our school to help promote positive mental health and to visualise our collective approach to promoting positive mental health. 
We pride ourselves on creating a nurturing and supportive environment for everyone, and I think the Amber Flag will be a great achievement to celebrate that.
Being involved in the Amber Flag meant that we were promoting a positive, accepting environment in the school. We wanted to show all students that their mental health is important and that there are ways to incorporate wellbeing into everyday life.
The Amber Flag initiative has fostered a real sense of community in our school.
Make a world of difference by donating to Pieta Today!